Description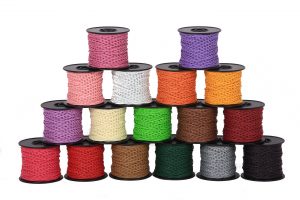 Our newest products, the 100m paperwire on plastic spools are now available!
We offer these products in 17 different colours. The spools size is ca. 9 cm x 11.5 cm and weight is around 400g. The paperwire consists out of not galvanized wire with a diameter of 0.4 mm and an overall diameter of 2.0 mm. The spools hole-diameter is 20 mm.
Our plastic spools seperate themselves from other plastic spools through their premium design, form stability and its break resistance.
In combination with our high-quality paperwire and its special winding, our 100 meter spools are truly premium products and differentiate themselver on market.
The intense colours of our paper can embellish all sorts of flower arrangements as well as creative sculptures and all other kinds of creative works.
Checklist: